White chorizo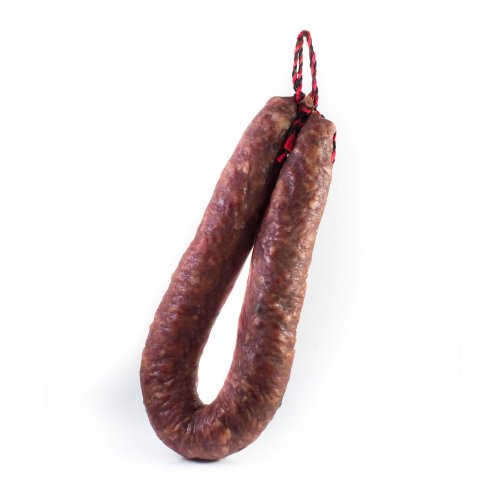 Buy White chorizo
White chorizo sausage
Our white chorizo, is made from the same raw material as our cured Spanish pork chorizo sausage excluding the paprika and replacing it with carefully selected spices that enhance the flavor while preserving its features through natural means.
The first and most important step in the production process of this Spanish delicacy is the careful selection of the best bits of ham which are then combined with lean and fat pork meat and mixed with selected salt from the Mediterranean coast and natural garlic. This unique pork sausage is then naturally cured for several months and slightly smoked with oak from the forests surrounding our company.
Our customers can buy this unique white pork chorizo sausage stuffed in a particular and cular gut (thick gut), which longer preserves the product's tenderness, or, stuffed in normal gut, with the characteristic horseshoe shape.
We take great care of the lessons learned from our ancestors when producing our chorizo sausages which undergo a completely artisan and natural production process. Our customers appreciate the outstanding quality of our products which is the driving force of our company.
Our clients can buy the best Spanish white chorizo in the following formats:
Naturally cured Spanish white chorizo sausage from Leon in horseshoe format

Naturally cured Spanish white chorizo sausage from Leon in extra-thick cular gut

Spread white pork chorizo