Spanish chorizo from Leon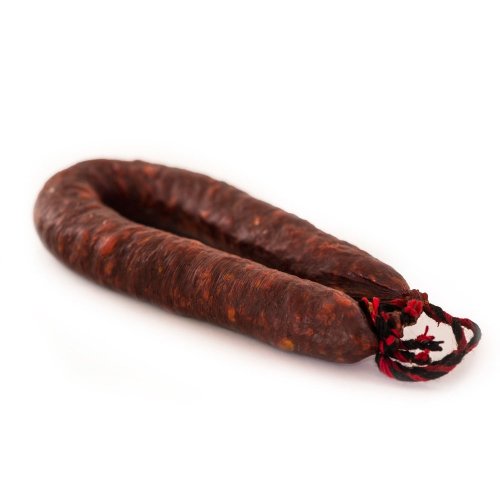 Buy Spanish chorizo from Leon
Chorizo - Naturally cured Spanish pork sausage from Leon
Among our products, the one which best characterises our company is our cured pork chorizo sausage. Chorizo de Leon is one of our specialities and is, together with the Cecina de Leon, the product for which we are well known, and which serves as the example of the uniqueness of our products.
Even the Spanish king praises our chorizo.
This unique product, typical from the city of Leon, is produced from our pork's ham (different from other producers we do not use other parts of the pork), by combining the best bits of ham with a mass of lean and fat pork meat, mixed with salt from the Mediterranean, natural garlic and "Pimentón de La Vera" (a sensational paprika with protected designation of origin), and is then naturally cured for several months and slightly smoked. The difference in quality is clear from the first bite.
Exquisite in all its forms, you can buy our ifferent types of chorizo: spicy chorizo, mild chorizo, the chorizo stuffed in a particular and cular gut (thick gut), which preserves the product's tenderness for longer, or, if you prefer it, chorizo stuffed in normal gut, with the characteristic horseshoe shape.
Another variation of this great product is the chorizo for cooking which is perfect to serve boiled or fried in stews and also served with potatoes or vegetables.
Please klick on this link where you can find one of the most traditional Spanish chorizo recipes.
Just one suggestion: we recently introduced a series of spreads which have as their main ingredient our deli meats. One of them is our chorizo spread. These products are enjoying an incredible success with our customers.
Enjoy an artisan Spanish chorizo at the best price!
Our clients can buy the best Spanish pork chorizo from Entrepeñas in the following formats:
Cured Spanish pork chorizo sausage from Leon– spicy
Cured Spanish pork chorizo sausage from Leon – mild
Cured Spanish pork chorizo sausage from Leon extra thick
Slightly cured Spanish cooking chorizo sausage from Leon
Spread pork chorizo – spicy
Spread pork chorizo – mild