Cecina de León Reserva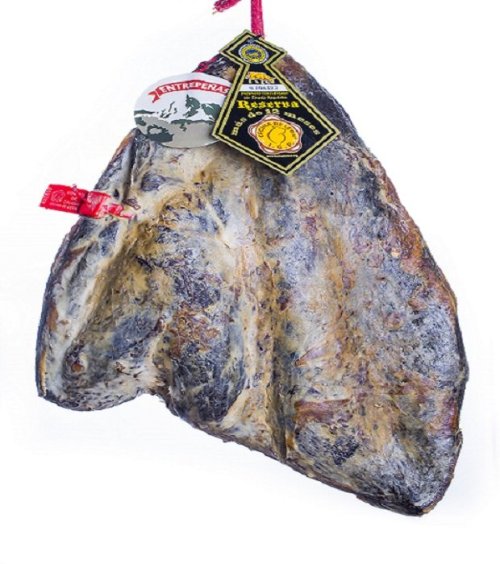 Buy Cecina de León Reserva
Cecina de León Reserva:
it undergoes a curing process of more than 12 months (up to 22 months) compared to the 7 months of the "Cecina de Leon". Its main characteristics are a greater fat infiltration and lower humidity, a more intense color and a denser texture. Cecina Entrepeñas has been certified for many years as an IGP (Protected Geographical Indication). Cecina "Reserva" Entrepeñas is differentiated with a band referring to the name "Reserva" and the maxim "mas curación más calidad" ("more curing more quality").
Customers can buy the best beef cecina (Cecina de Leon) in a number of different "formats" (entire beef cecina, piece of cecina, cecina en lonchas or spread cecina). Given the quality of this extraordinary product and the strictly artisan production process, the price of our Spanish cured beef ham is extremely competitive.
Nonetheless, we suggest our customers to buy the whole piece of our traditional Cecina de Leon due to its excellent price/quality relationship. We also encourage lovers of Spanish dried beef jerky to try our newest product which is being extremely appreciated by our customers: spread Cecina de Leon.

If you are looking for recipes with cecina de Leon please click here.
These are the different formats of our traditional Spanish beef ham (Cecina de Leon) you can buy:
Whole piece of Cecina de Leon
Clean whole piece of Cecina de Leon
Vacuum packaged small piece of Cecina de Leon
Vacuum packaged slices of Cecina de Leon
Spread beef cecina (produced with minimum 80% of our best Cecina de León)